Now You Can Easily Etch Glass Desk Nameplates, Glass Awards Or Trophies With Your Copy or Artwork In Minutes In Your Own Shop For Fun Or Real Profit. And You Can Even Start Your Own Glass Etching Business For Almost No Investment!

We Will Show You How!
1. Make Your Copy And Prepare A Stencil.

Make a transparency copy of the name or artwork you want to etch on the nameplate. Do this on your computer as shown on another page (check spelling very carefully). Use the transparency with your UV Exposure Unit to make a stencil. Before you etch make sure to clean the glass with Windex or other glass cleaner. Gather all the materials you will need: activator, etching cream, paper towels, squeegee, Q-Tips, and a timer.
2. Apply Activator to the Stencil and Glass.
Next place the stencil directly on the glass and line it up very carefully. Smooth it down gently in place. When stencil is lined up perfectly apply a small amount of activator to the "copy" area of the stencil. Use your finger tip to gently rub the activator through the stencil and squeeze it out under the stencil so it has a large area to help hold it in place. You can see it spread if you watch closely.
3. Run Squeegee Over the Stencil.
Run your squeegee gently but firmly over the stencil to force the activator through the mesh in the stencil and to smooth out any bubbles or air pockets that may be between the stencil and the glass. DO NOT SKIP THIS STEP. Air pockets and bubbles will ruin your work as those places will not be etched completely.
4. Dry the Stencil with a Paper Towel.
Now fold a dry paper towel four or five times into a pad. Use this "pad" and the heel of your hand to apply firm pressure to the stencil to dry off any activator that is still left on top. Do not wipe back and forth, rather apply pressure to one spot, lift, then apply pressure to the next and so on. Make sure to press down firmly on all copy edges so the etching cream does not migrate under edges.
5. Apply the Etching Cream.
Now it is time to apply the etching cream! Use a Q-Tip and carefully spread the cream so it covers every part of the design you want etched. Press down firmly with the Q-Tip so the cream goes completely through the stencil onto the glass. Be sure you do not move the stencil as it will make a blurry etch You can use scotch tape to secure stencil.
6. Squeegee and Reapply the Etching Cream.
Again, run your squeegee firmly across the stencil so that you push the etching cream through the stencil and onto the glass. When this is done then use your Q-Tip to remove the excess cream from the squeegee and reapply it back onto the stencil gently but somewhat firmly, being careful NOT to move the stencil in the process.
7. Let This Set For 60 Seconds And Then Wash.
Now let everything set for about 60 seconds. If this is the only item you are etching at the moment then take your timer with you to remind you when the time comes to wash off the etching cream. To do this simply start the water running in the sink and when ready place the glass, stencil and all, under the running water. Wash off the glass first and the stencil next. You can use the stencil many times so take care to dry it off and store it safely.
Here is your Finished Glass Desk Nameplate
Our Photographic Skills Aside, We Assure You It Looks Excellent and
Professional in Real Life. You Will Be Proud Of Your Work.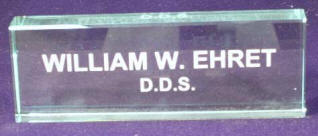 This is a 2"x 6"x 3/4" thick nameplate and it easily sells for $24.95 to $39.95 almost anywhere in the U.S.A. You can make larger nameplates up to 2" x 8" x 3/4" thick that sell for $29.95 to $49.95. This is one of the fastest growing businesses we know of and it is very easy to start with almost no up front costs. It is something you should check out soon. If you are interested in etching glass here is a way to make real money fast and with little effort. Also we will soon have a sales circular showing etched glass nameplates which you can copy off of our website and use with your own name and prices. This should make it very easy to get started. Simply pass them out to your local business, show a completed nameplate and wait for the orders to come in. It would be very rare if anyone else is selling glass desk nameplates in your town at a lower price, so you should get the business without a lot of sales effort.
---
Glass Nameplate Blanks At Discount Prices!
Now that you know how to make nameplates quickly and easily, you can see that there are many ways to make real money making and selling nameplates, glass awards, and hundreds of other glass items. You can easily sell to bankers, lawyers, real estate agents or any of hundreds of other businesses or professional people. Here is your chance to start your own business right in your home for almost no investment except for your time and a few supplies.

We offer the lowest discount prices on glass nameplate blanks on the web. We have 4 sizes available; orders ship the same day.

To order, click the

"Jade Glass Awards" link. You will be taken to a page that will let you choose the quantity and sizes.
---
Jade Glass Awards | Jade Glass Ornaments |
Jade Glass Christmas Ornaments | Etching Supplies Price List
UV Glass Glue | Glass Etching Starter Kit | VIN Etching Kits
440 Stencil Maker | 560 Stencil Maker | 1000 Stencil Maker

Wine Glass, Coffee Cup, and Beer Mug Etching Instructions
Home Page | What Is A Dura-Film Stencil? | How to Make Stencils |
Glass Etching Business
How to Etch Glass | Dip 'N Etch Instructions | Resist Gel Instructions | Glass Desk Nameplates
Acrylic Paint Stencils | Fabric Paint Stencils | T-Shirt Stencils
---
Email Us Or FAX At 1-360-985-2996

P.O. Box 200 / 500 Wilcox Road
Salkum, WA 98582
Email - Click Here
Phone: 1.800.775.0797
Fax: 1.360.985.2996
*NOTE: These stencils are not compatible with any sandblasting technique.
If you own a UV stencil maker and you like glass etching; you might want to take a look at our kits that allow you to make your own custom rubber stamps with artwork you make on your computer.
You Can Also Use These Custom Dura-Film Stencils to Permanently Etch Multi-Tools and Leatherman Tools Quickly and Easily with the Etch-O-Matic Tool Marking Machine.
Copyright© 1995-2007 Martronics Corporation
Etch-O-Matic
® is a Registered Trademark of Martronics Corporation
Shopping Cart Software By 1ShoppingCart.com